In this post I'm going to show you how to make a healthy and delicious muffin that gets its name from one of my favorite cakes–Carrot Cake! This is a simple recipe, one you can whip up in a hurry. And it won't even make you fall off your diet!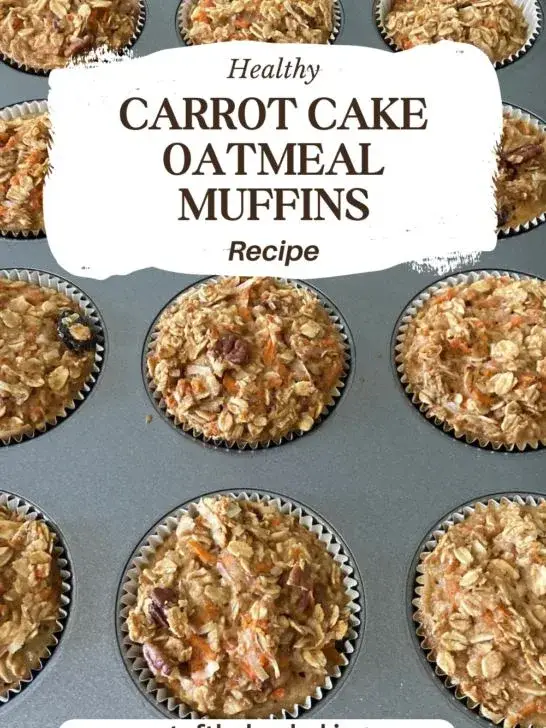 Healthy Muffins
I'm doing my best to stick to a healthier eating plan, but it always helps to have foods on hand that won't break the calorie bank. That's not easy to do, especially for a sweet tooth like me!
When I stumbled across this Carrot Cake Oatmeal Cups recipe at Ambition Kitchen, I liked the sound of it.
I've been buying the Kodiak Cups and they're pretty good. . .but pricey. So, I like the idea of something easy and cheap. (Hey, I can't help myself. I'm always pinching pennies.)
Muffins are Easy and Delicious!
Muffins are a go-to for me, and I always love to have them on hand. That said, most of the ones on this site (like my Traditional Blueberry Muffins, for instance, or my Cinnamon Sugar Muffins), aren't exactly low in sugar.
This time I needed something healthy.
I'm crazy about oats, crazy about carrot cake, and just happened to have the ingredients on hand to make this one right away. I'm also happy about the high fiber option.
I knew the recipe would make a lot and I couldn't eat them all at once. Could I freeze them for later? That was the question. Turned out, I could! Turns out these are great for meal-preppers like me.
Meal Prep Muffins? Yes, Please!
Talk about a healthy breakfast option!
Sometimes I'll bake ahead and put items in the freezer in individual bags. I recently did this with my Crustless Quiche and Foolproof Frittata.
I've frozen muffins in the past but I wasn't sure if these "cups" would turn out to have a muffin consistency. I decided to give it a try to see for myself!
I'll tell you more about the results below, but let's take a quick peek at what you'll need to make these.
Carrot Cake Oatmeal Cup Ingredients
You will find a full printable recipe card at the bottom of this post but here's a quick peek at what you'll need to make these healthy muffins. These are pretty common ingredients you might already have on hand.
quick oats
baking soda
salt
cinnamon
grated carrots
shredded coconut
chopped pecans
craisins or raisins
coconut oil (or cream of coconut)
room temperature eggs
unsweetened applesauce
Maple syrup
coconut oil
How to Make this Easy Carrot Cake Muffins
These came together so easily!
Start by preheating your oven to 350 and lining or greasing your muffin tin, (if you choose). This recipe makes an even dozen so you'll only need one muffin tray.
You won't need a stand mixer for this one. Just a couple of bowls and whisk will do, along with a spoon for stirring.
Place oats, baking soda, salt, and cinnamon in a small bowl and set aside.
Place all wet ingredients in a separate large mixing bowl, including applesauce and coconut oil (or cream of coconut).
Whisk wet ingredients together until well incorporated.
It's time to add the oats, cinnamon, baking soda, and salt. Dump them into the wet ingredients and give 'em a good stir.
Let's add the fun stuff! In goes the coconut!
In go the Craisins!
In go the pecans! (These are going to be some texture-filled muffins!)
In go the shredded carrots!
Mix it all up. (Yum! Check out that lovely oat mixture!)
Let's get to scoopin'! Grab that muffin pan.
I used an ice cream scoop to put my batter into the cups. It's the easiest way to do it! Don't worry about over-filling. These won't grow much while baking.
Pop 'em in the oven and bake until they're fully cooked and set, about 25-30 minutes. They should turn a light golden brown.
Place on a wire rack to cool, then serve and enjoy!
Leftover muffins should be covered in plastic wrap and refrigerated for 2-3 days.
You can also freeze these in an airtight container or Ziploc bags to be eaten later. If you used liners, just make sure you remove them if they're foil cupcake liners.
What to Expect from this Recipe
I'm alway so happy to find a recipe that's both tasty and healthy.
I knew I would love the texture. I'm a coconut, nuts, carrot, Craisins fan. There's something about a muffin with a "bite" that wins me over every time.
I happen to love oats, too, so this one was a win with me!
What makes me happy is the classic carrot cake flavor. I really can have my cake and eat it too. . .without the guilt!
This recipe has a natural sweetness that doesn't rely on a ton of sugar, which is great for the waistline! This is a great recipe you're going to love, especially as a hearty breakfast. And best of all, it's loaded with whole grains, which are great for digestion.
Variations on this Recipe
I'm already thinking of ways to change this up to add variety. Here are some ideas that come to mind:
Flour: Next time I might swap out half of the oats for all-purpose flour or oat flour to give the muffins a lighter texture. If you prefer, you could even choose almond flour.
Plump the Craisins: I'm learning that if you soak your Craisins (or raisins) overnight in water, they are more plump and full and less chewy.
Orange Juice: I'm crazy about OJ in my Carrot Cake and I think a splash of it would be great! It might be fun to soak the Craisins overnight in orange juice (in the fridge). That would be flavorful! (Talk about a great addition!)
Walnuts in place of pecans: Carrots and walnuts are great together!
Baked oatmeal recipes: If you want to bake this in a pan, place it in a 9×13-inch baking dish and bake low and slow. You might want to swap out a bit of flour for some of the oats. You'll love that baked oatmeal taste!
Oatmeal singles: Freeze scoops of batter in freezer bags, removing one at a time to bake in a mug in the microwave. Take about a great meal prep breakfast!
Mini Muffins: Bake this up in a mini muffin pan!
Healthy carrot cake recipe: Add a bit of flour in place of some of the oats and bake in a loaf pan.
No matter how you bake them up these healthy carrot cake muffins will be a win, for your health and your taste buds.
Other Healthy Recipes from Out of the Box Baking
If you love healthy recipes, our list is growing! Here are a few fan favorites.
---
That's it for this post, friends! I hope you enjoyed this delicious carrot cake muffin recipe.
If you make this recipe and love it, don't forget to leave a review and a comment below. And don't forget to pin the photos to your Pinterest boards!
See this recipe at
---
About the Author
Janice Thompson is an author, baker, and all-around mischief maker! She has overcome a host of baking catastrophes, including a toppled wedding cake, to learn more about the baking process. Janice has published over 150 books for the Christian market but particularly enjoys writing recipes and baking devotions. To learn more about Janice or to drop her a note, visit her About the Author page.
Note: This post may contain affiliate links. This means that I make a very small commission off of items you purchase at absolutely no additional cost to you. Please check out my policy page for more information about this blog and the ads that run on it.
Carrot Cake Oatmeal Cups
In this post I'm going to show you how to make a healthy and delicious muffin that gets its name from one of my favorite cakes--Carrot Cake! This is a simple recipe, one you can whip up in a hurry. And it won't even make you fall off your diet!
Ingredients
2 cups quick oats
1 teaspoon baking soda
1/4 teaspoon salt
1 tsp cinnamon
2 cups grated carrots
1/2 cup shredded coconut
1/2 cup chopped pecans
1/4 cup craisins or raisins
1 tbl coconut oil (or cream of coconut)
2 large Eggs
2/3 cup unsweetened applesauce
1/4 cup Maple syrup
1 tablespoon coconut oil
Instructions
Mix together wet ingredients in a small bowl, including applesauce and coconut oil (or cream of coconut).
Add flour, cinnamon, salt, and baking soda to a large bowl.
Combine wet and dry ingredients.
Add carrots, coconut, pecans, Craisins (and any other add-ins you might like)
Scoop into muffin cups.
Bake at 350 for 25 - 30 minutes or until golden brown.
Nutrition Information:
Yield:

12
Serving Size:

1
Amount Per Serving:
Calories:

178
Total Fat:

8g
Saturated Fat:

3g
Trans Fat:

0g
Unsaturated Fat:

4g
Cholesterol:

31mg
Sodium:

186mg
Carbohydrates:

24g
Fiber:

3g
Sugar:

11g
Protein:

4g
The nutrition information is a product of online calculators. I try to provide true and accurate information, but these numbers are estimates.