No matter what kind of cookie you're looking for, we've got it at Out of the Box Baking. Holiday cookies, summertime cookies, classic cookies, fruity cookies. . .you name it, we've got it.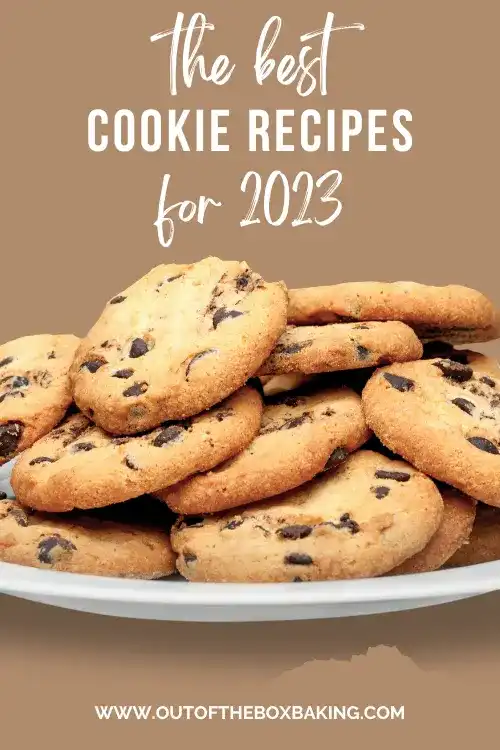 My Favorite Things About Cookies
I could sing the praises of cookies all day long. There are so many cool things about them. Here are some of my favorite things:
Cookies are Convenient: They're super easy to make and store. They can be quickly baked and enjoyed as a delicious treat. You can "grab and go" with a cookie (unlike, say, a slice of pie).
Cookies are Versatile: These little darlings come in various shapes, flavors, and textures, and provide a wide range of options to suit different tastes. From classic chocolate chip cookies to oatmeal raisin to my Perfect Peanut Butter cookies, there's truly a cookie for everyone.
Cookies offer Reasonable Portion Control: They're typically small and individually sized, making it easier to control portion sizes compared to other desserts. This can be helpful for those who want to enjoy a sweet treat without overindulging.
Cookies are Easy to Share and Gift: It's no wonder cookies are such a popular choice for sharing and gifting. Whether it's a plate of cookies at a holiday gathering or a homemade gift for a friend, cookies can spread joy and bring people together.
Cookies offer Homemade Goodness: When you bake cookies at home, it allows you to customize the ingredients, which ensures a fresher and healthier treat. You can choose your ingredients wisely.
Cookies offer Feelings of Nostalgia and Tradition: If you're like most folks, you have fond memories associated with cookies. These sweet treats can remind us of childhood baking sessions with family members or stir up warm feelings of comfort and familiarity.
Cookies for the Win!
In short, cookies are amazing! It's no wonder they've stood the test of time. And that's why we care so much about them, here at Out of the Box Baking!
Scroll the list below and click the photos to discover the recipes!
CLASSIC COOKIE FAVORITES
If you grew up eating homemade cookies, no doubt you've had many of the ones listed below. These six flavors are universally loved and shared from city to city, state to state, even country to country!
I hope you enjoyed these classic cookies from Out of the Box Baking! Click the photos to be linked to the recipes.
CHOCOLATE COOKIES
Chocolate lovers, unite! Here at Out of the Box Baking you'll find a host of rich, chocolate delights! Just click the photos to go straight to the recipes!
SLICE 'N BAKE
FRUITY COOKIES
They're delicious and sweet, loaded with fruity flavor! Click the photos to find the recipes!
DECORATED COOKIES
If you love to decorate sugar cookies, you're going to love these recipes and posts! Decorated sugar cookies are a passion of mine. I've been painting cookies with royal icing for nearly ten years now and I love, love, love blessing others with a hand-painted sweet treat.
Here are Out of the Box I've got several tutorials for cookie decorating. That's how strongly I feel about sugar cookies! (They're edible art, after all!)
Just click the photos to find the recipes.
PEANUT BUTTER COOKIES
I'm a peanut butter lover, so I've got some terrific peanut butter offerings! Just click the photos to go straight to the recipes!
RED VELVET COOKIES
Southerners, unite! Red Velvet cookies are here to stay! Enjoy these delicious recipes! Just click the pictures to be led to the recipes!
SUGAR COOKIES
The classic sugar cookie. Is there anything better? Click the pics to see the recipes.
CHRISTMAS COOKIES
Looking for cookies to bake during the holiday season? We've definitely got you covered.
You're going to love these sweet Christmas cookies!
LOADED WITH THE GOOD STUFF
Some cookies are absolutely chocked full of surprises. Check out the recipes for these "loaded" cookies by clicking the photos below.
CHOCOLATE COVERED COOKIES
SANDWICH COOKIES
Cookies that are sandwiched together with delicious stuffing? Yes, please! Click the pics for recipes for these stuffed sandwich cookies.
CAKE MIX COOKIES
Do you like quick and easy cookie recipes? We've got you covered with our cake mix cookies!
VALENTINE COOKIES
Cookies are perfect for Valentine's Day and our "I Love You" offerings are just the ticket. Click the photos below to be led to the recipes.
WEDDING COOKIES
These cookies will be the guests of honor at your next wedding or bridal shower. Click the pics to be led to the recipes!
---
That's it for this post, friends! I hope you enjoyed this delicious recipe.
See this recipe at
---
About the Author
Janice Thompson is an author, baker, and all-around mischief maker! She has overcome a host of baking catastrophes, including a toppled wedding cake, to learn more about the baking process. Janice has published over 150 books for the Christian market but particularly enjoys writing recipes and baking devotions. To learn more about Janice or to drop her a note, visit her About the Author page.